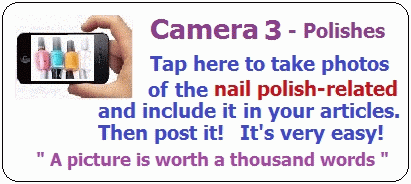 Nail Polishes and Related
Talks, Ask Questions, Reviews

| | |
| --- | --- |
| Q | Gel Nails; Pros and Cons |
Pros
•Doesn't smudge moments after you leave. It dries under UV or LED lights and is completely dry when you leave.

•Doesn't chip a day or two after your manicure. Gel polish is a form of artificial nail and is much stronger and more durable than regular nail polish.

•Can last up to three weeks. People who use their hands more may find it's closer to two weeks.

•No funky smell. Gel polish is odorless so you won't feel like you're getting high while your nails are being done.

•Great for designs. Because of the way it dries, gel polish is great for designs.

•Easier on your nails than acrylic.


Cons
•More expensive. The polish costs more from suppliers so the price of the manicure is higher. (Remember, though, a gel manicure lasts longer.)

•Limited colors. Companies are adding more color options all the time, but the selection is still a bit limited.

•Need to have polish removed by a professional. Cotton balls and nail polisher remover won't get gel polish off your nails. We soak your nails in acetone and use a special tool to safely scrape the gel off your nail.

Gel manicures are higher cost but require less maintenance. Fun fact: we carry a color-changing gel polish that responds to the temperature of your hands. When your hands get hot or cold, the color changes.

Even if gel manicures aren't something you want to do every time, they're fun for a special treat.
Aug 09, 2017
gelnails
Views 11705