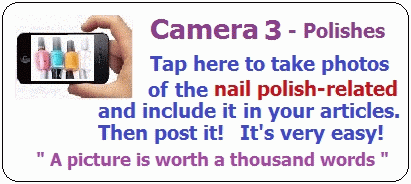 Nail Polishes and Related
Talks, Ask Questions, Reviews

| | |
| --- | --- |
| Q | Have you heard of SNS dip powders? (Review) |
SNS Nail Polish : Dipping Powders


Have you heard of SNS dip powders? If you usually get gel or acrylic nails but are concerned about nail health, would like to not use a UV lamp or just want to experiment with a new trend, you might be interested to see what SNS nails are all about!

SNS stands for SNS ( Signature Nail Systems ) and the dipping powder has no odour, no liquid, no primer and no UV light needed to make acrylic or gel like nails.

Who is SNS for?

SNS is ideal for anyone who is looking for healthy nails, or people who might have had bad breakage when it comes to using false nails, gel or acrylics.

How long do SNS nails last?

SNS nails will last around 2 weeks without chips, making them on par with gels and acrylics, and far more long lasting than polishes that are applied at home.

Why is SNS different?

SNS are much thinner, lighter in weight, quick to apply and help to ensure that your nails grow out stronger and healthier. They do this by adding 5 different kinds of Vitamins and Calcium into the powders!

SNS is the leading brand however there are other brands that offer the same method of powder and activating solutions, but SNS are certainly the leading brand.

What will happen during an SNS nail application?

Your therapist will start by applying a dehydrator to all of your nails, and this will be done on clean nails, or when your existing false nails have been taken off and removed. Dehydrating the nails creates the perfect area to start the application, but because of the benefits of the SNS powder, the treatment is actually very caring and beneficial to your nails.

They will apply the base glue to each nail in a very thin layer. You may note that your therapist will be working higher away from your cuticle than normal. This is absolutely fine and normal for SNS application . After the nail has been covered, your therapist will put your nails into an activating powder known as 'natural set'. You will rest before the process is repeated across your other hand.

You will then have a powder that is applied that is in your selected shade. (Whilst you may have picked this from a colour wheel or a swatch, you may be surprised that the colour of the powder doesn't always match your selected shade – it can be a little darker at first). This is totally normal and after a few more layers and some hard work, you will have the colour you desired and selected!

The therapist will add the powder onto the very top of your nail, away from the cuticle, going back and ensuring each nail is covered, before making it up to the cuticle and nail bed. It might start to look a bit messy, a little bit like paint has gone everywhere, but you won't be left with any unsightly marks on your skin, don't worry!

Then your technician will then use a file or a power file to buff down some of the SNS powder to a flat finish, before using a manual buffer to take down the polish further. After this you will wash your hands or your technician will cleanse your hands in water. Your technician will finally check each nail and will add on a top coat. SNS applications come with a few layers of top coats, as each layer of top coat seals in the colour so the polish is there for a few weeks, with the final top coat making the look extremely shiny!


After 2 minutes your nails will be dry, without any need for a heat lamp. That's it!

To remove SNS manicures, the first step is to sand off the Gel Top shine on all 10nails. Next, you can either use foil with acetone or soak the nails in acetone for 10 minutes and then wipe off with a paper towel.


What to expect

This is a new technique so you need to work with a qualified technician who can work with SNS powders.

You might also need a bit more time in the salon than you are used to – the application and filing process is a little longer – but if having healthy, shiny. Long lasting nails is important to you, this could be something that really works for you!

We would strongly encourage you to take a look or ask us about SNS powders so you can see the benefits for yourself!
Mar 22, 2018
elaine
Views 10369