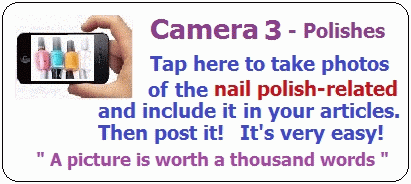 Nail Polishes and Related
Talks, Ask Questions, Reviews

| | |
| --- | --- |
| Q | Essie Nail Polish - Bon Boy Age Review |
If you're looking for a new Essie Nail Varnish to add to your collection and you want something that's great for any season, our top pick is Bon Boy-age.

Who ever needs an excuse to pick up a new polish? We certainly don't! However, we do think that this particular shade offers something special, and if you are really into your nail varnish trends – or even if you just want a 'fail safe' colour, this is an ideal shade to pick up.

We wanted to dig deep down into some of the top reasons we think you should pikc up this Essie colour. We think regardless of nail condition. Skin tone or even the event, that this is the shade that will see you through season after season.

Is it in our top 10? Yes!

The shade

We are pretty confident that if you need to justify another Essie Polish, this is a great place to start – simply, we don't think you will have anything similar to this in your collection – at least not from the Essie brand!

If you asked someone to mix the perfect nod to green and blue that was both warm and cool toned– or, in fact, a true neutral, this would be it. If you asked them to create a shade that could work for office wear as well as on the beach – you wouldn't be disappointed when they served you up this polish. It's a real blend of everything we look for.

The shade

It's a beautiful sage green colour and a striking shade with hidden depths. This is the kind of Essie polish you need to remember the name of, because you WILL be asked what it's called.

Comparison wise, we racked our brains for something that could look similar and the only ones we could think of would be the Essie polishes Sage You Love Me – a slightly lighter shade with hints of grey and a much more icy 'cold' feel, and Turquoise and Cacois, but this is really a far darker shade that's a bit more green leaning. However, as a starting point, if either of those colours are up your street, this will be up your alley!

Bon Boy-Age will also be of interest to you if you like the shade and depth of the grey navy of 'Anchor Down' or the pastel colour of 'Borrowed and Blue' but you would prefer to look at a slightly greener look that's a true neutral.

The finish

Essie polishes are always reliable however skilled or unskilled you are at applying nail varnish, we think that an Essie polish will see you get the results you need, all at speed!

This is no exception and is dense and buildable, usually going opaque after just two slim layers, great if you are in a hurry. Dry time is not too bad either, and chip wise, you're looking at 4 – 5 days without any severe chips – depending on what you are doing, naturally!

The finish

It's got a great level of colour density – it fits nicely into the blue/ green shade opacity you will know and love from many of the other Essie ranges, but Bon Boy age has a lovely gloss finish to it. Speaking of finish – how shiny is it?

You may be wondering if it meets the Essie standards, after all, the finish you get with an Essie polish is part of the reason you're probably considering a new Essie polish for your collection – it's a unique selling point that their varnishes really do stand-up day after day!

If you want a shade and finish that's reliable (no weak nails or that sickly breakage feeling) and you want to have an instant high shine hit and some shine across the next few days, we are delighted to let you know some great news – that Bon-Boy Age from Essie is just the same as any other polish from the range in terms of shine and finish.

Because it's not too sheer on the first application you don't have to spend an age building up that colour density to get the pay off that you need, which means less margin for error and a sleeker look. (This is fantastic if you want to grab and go!)

Will I need a base/ top coat too?

Will you need a base or a top coat? Obviously, that is a personal decision. We would however say that it's a great idea to lay down a base coat with any colour that has blue or green tones, just to catch them.

For a top coat, we think that for shine, you can get away without one, however as any nail varnish lover knows, longevity is always extended with a quick dash of a top coat or gel like covering on the top of your new favourite nail colour.
Mar 22, 2018
elaine
Views 10499