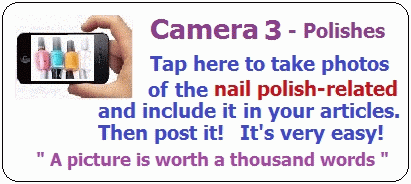 Nail Polishes and Related
Talks, Ask Questions, Reviews

| | |
| --- | --- |
| Q | OPI Nail Polish - Lisbon Line Up (Review) |
It's Spring and Summer 2018 and we are delighted to see something very new and exciting on the shelves – the OPI Lisbon Collection! As the sun hits the streets, it's time to get nails that feel a bit perkier and warmer, and OPI have smashed it with this wearable collection.

That's not to say they have played it safe! Whilst the range includes the staples of a tropical nail wardrobe shift – your pinks, corals and sea colours that look amazing on Instagram as you hold a cocktail or mocktail, the range also nods to some unusual trend led shades, such as a metallic red (hello, Christmas!) and a striking warm blue that somehow just works!

So, we delved into each shade to see what was ahead. Here are the ranges from the OPI Lisbon Line Up, Spring Summer 18.

Suzi Chases Portu-Geese

The first is called Suzi Chases Portu-Geese, an off white, slightly pink tinged lacquer that looks shiny in the bottle. Wait until you see it dried down! If you want a day to night colour that's going to go with everything, grab this one quick.

This colour is not a striking white but has that creamy pinkness to it – making it wearable and fun and not as 'white out' as you might fear. It gives a sheer first coat, building to a thick coverage on the second and third coat. (Depending on how you apply the polish, you might even be able to get away with just 2 coats. The shiny finish on Suzi Chases Portu Geese is well worth investigating – we were very impressed.

Lisbon Wants Moor OPI

Lisbon Wants Moor OPI is a slightly pink, sand shade of a nude that again is going to suit ladies who are not at the beach, and might want Summer appropriate nails for a more formal setting! This fits the bill. The formula feels slightly thinner than some OPI colours and applies more opaque after 1 – 2 coats, with great coverage. This is the perfect colour as a base for a classic French manicure with a twist, coming in as the ideal spring transition shade.

Tagus in that Selfie!

Tagus in that Selfie! Is a coral toned pink with slight orange undertones. This formula is easier to built than Suzi Chases Portu-Geese, building to a very full opaque coverage in 3 coats.

You've Got Nata On Me

You've Got Nata On Me is a salmon pink polish with a tinge of orange. If you lean to pinks gran the Tagus in that Selfie! Over the You've Got Nata On Me.

This is the ideal 'tan' colour, bringing out darkness in the skin, and this will look striking on back skin as well!

Sun, Sea and Sand In My Pants

Sun, Sea and Sand In My Pants is a bright, a sunshine yellow. You might be put off on coat one, with the formula streaking on first application. (Lillacs, yellows and greens are all typically hard to build up, but give this 3 sheer coats and you'll be left with a beaming ray of sunshine on your fingers!) The colour is perfect for Summer and the darker dry down makes it wearable – we promise!

Closer Than You Might Belem

Closer Than You Might Belem is a turquoise, sea coloured polish that is ridiculously shiny. Just 1 coat is enough for some decent coverage and the colour is perfect for

Made it to the Seventh Hill!

Made it to the Seventh Hill! Is a striking metallic polish with a hint of pink, orange and bronze. Like all metallic, they start off sheer but some patience will see you being able to build up to some stunning coverage. This is a great day to night shade and the pink undertones keeps things more feminine than a standard copper metallic.

Now Museum, Now You Don't

Now Museum, Now You Don't is a stand out polish – a red metallic that leans to the bronze, sparkly shade. There is something very 'red slippers' about this, and 2 coats in this ideal layer to get the impact this deserves.

We Seafood And Eat It

We Seafood And Eat It is a tropical, red pink that's completely luminous with Summer written all over it! This leans towards the red side of pink but has a nod of day glo – in a good way. This is a real tan colour, with a high shine finish we adore.

No Turning Back From Pink Street

No Turning Back From Pink Street is your classic summer, red hot pink with a striking Barbie with attitude look. This builds well, covering opaque in 2 coats, with a slight dark dry down that takes this from 'little girl' to 'Summer in the City' in seconds. Surprisingly wearable!

Redvival City

The net is a Redvival City, an orange red. This covers incredibly well in the first coverage and sits more on the orange side as it applies and dries down. The gloss finish saves it from 'Cheeto fingers' and makes it a lot more high end!


Tile Art To Warm Your Heart

Tile Art To Warm Your Heart is real striking blue that brings to mind Greece, to us. This is actually a warm under toned blue, and that's key, because the warmth stops your nails and you looking dead, and gives a bright summery feel. It's still a blue though, so staining can be an issue – so don't forget your base coat!
Mar 23, 2018
elaine
Views 10438