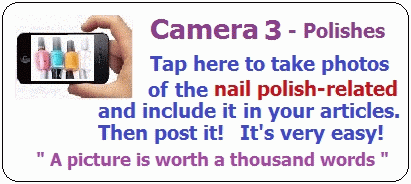 Nail Polishes and Related
Talks, Ask Questions, Reviews

| | |
| --- | --- |
| Q | The Zoya Bridal Bliss 2018 collection (Review) |
The Zoya Bridal Bliss 2018 collection has just landed and is a very exciting range for anyone taking part in a wedding – bride or guest! As you may know, these are core or suggested shades that are built into a collection that's bride suitable!

Sweetpeas and Erika are what we would call toppers – shades that give a sparking finish with a gold gleam. Pair it with any other Zoya shade for that extra 'something something!' We like it with Snow White, a sheer, yet pure white polish with a lovely final colour on the nail.

Brighton is a new polish which is exclusive to the range and is a stunning densely packed nude glitter. You can build a great cover of glimmer on just one application, building to a full coverage on 2 coats. The end result is grow up glamour and it dries down to a stunning shade. If you love purple you can also try Abby, an unchalky, true lilac shade, or Blu, a true baby blue.

If you like pink toned nudes, try Bela, a super neutral that gives a classic 'muted pink' finish, or Mckenna, a pearly nude that has a shell-like finish that leans towards a gold. If pink nudes don't suit your skin tine, you could also look at Chantal, a very creamy, almost yellow based polish with a custardy finish.

Loretta is a super sheer colour we recommend as a base. With just a slight creamy hint of something, this is the ideal 'clean nail' colour for people who want a French manicure base.
Want more colour? Avril is a clean pink nude that is one step up from Loretta, a lovely, muted mauve pink polish that's good to wear even after one application and Rue is even deeper, with a muted brown leaning nude finish we love.
Mar 25, 2018
elaine
Views 10520