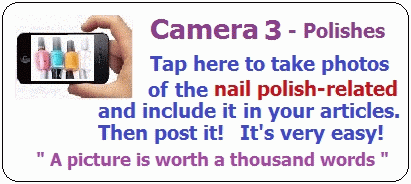 Nail Polishes and Related
Talks, Ask Questions, Reviews

| | |
| --- | --- |
| Q | The Zoya Thrive range (Review) |
Have you heard of Zoya polishes? If you are interested in a high-quality polish that won't break the bank, Zoya is well worth a look! We wanted to look at a few of the ranges well worth investing in.


The Thrive range

Even if you have an extensive Zoya collection, it's well worth looking at the 2018 Zoya Spring collection has come out with a 6 piece pastel collection and we wanted to take a look at some of the colours closer up and see how they work and look on the nail!

Zoya collections are always a delight when they land and the Thrive range is no different! With 2 pinks, 2 purples, a blue and a topper. The collection includes some muted colours, some pastel shades and makes a wearable mix.

The colours include Darby, which they call a dusty grey metallic, but which to us looks like a grey blue with a shimmer. Swatching reveals that in fact the shimmer is retained in the bottle – and doesn't transfer to the nail! A great, thin formula that takes a bit of work but has similarities to Kristen, a lighter blue from the Zoya range.

Haruko is a soft violet metallic with a pinkish tone running through it and Trudith is a creamy muted purple This runs close to a lavender, but has a dusty, warm tone that makes it wearabale and fun!
Love a neutral / warm pink? Brandi is the one for you! They call it a blush pink but we think it's a medium pink on the nail. A great 'one coat' everyday pink we think most people will love.

Monroe is another pink from the range that falls a little deeper and is a great match if you prefer a rosy pink with more red and warmth in it than the Brandi.

If you like glitter toppers – take a look at Leisel, a topper in a metallic purple. Multi chrome in look, this shade will give a sheen of purple and pink to any colour and whilst it looks gold in the bottle, this doesn't translate to the nail.
Mar 25, 2018
elaine
Views 10414