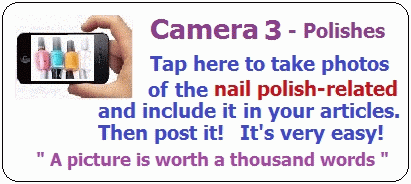 Nail Polishes and Related
Talks, Ask Questions, Reviews

| | |
| --- | --- |
| Q | Holographic Nail Polish |
Holographic Nail Polish

Have you heard of holographic nail polish? This futuristic sounding varnish is the ideal choice for anyone looking to seriously upgrade their nail varnish collection or up their nail game in 2018!

Ever sin e Gigi Hadid started rocking the trend, mere mortals have been looking to replicate the look and with everyone loving Instagram, any shade that looks amazing as part of a theme is worth looking at!

It sounds a cliché to call holographic nails 'out of this world' but if you want a space age, modern, futuristic finish, then you are going to want to really invest in a holographic nail varnish, or at least a top coat that can give that extra- terrestrial sparkle and shine to your fingers and toes. If you're fed up of run of the mill, this is a great way to liven up your nails.

Each out-of-this-world shade in a strong holographic nail polish will have a unique finish that shimmers and shines with a rainbow effect in even the slightest glimpse of light. They work well for night-time (think of a little black dress and a strikingly deep, dark nail) but also can look stunning in the sunshine – the perfect accompaniment to your beachwear or weekend outfit!

The best part is, not everyone is busy with the holographic trend so whilst everyone else is busy looking at Summer neon nails or picking over the perfect nudes, you can stand out from the crowd!


We always describe holographic nails as something extra ordinary. There are plenty of brands who describe their range as chrome or metallic, but a true holographic nail will have an iridescent finish that almost changes colour as the light particles meet the nail at different angles.

Different brands achieve holographic nail polishes in different ways. For example, YSL and their 'Studio Silver' is a holographic design that uses particles of glitter to reflect the light, taking this standard silver to something much cooler with blue and green tones.

We are suckers for higher cost nail polishes when it comes to this type of nail look – we can't stop looking at Christian Louboutin's Nail Colour in Miss Mars, an inky metallic shade that really delivers a punch!

If you are looking for something more accessible, one of our favourite brands Essie have a stunning holographic shade - 'For the twill of it' a holographic nail polish that has a design similar to spilled oil – a grey, slushy colour that can be viewed as a cool shell green, pearl and even a pink, depending on how the colour presents itself.

So, are there any secrets to the perfect holographic nail polish?
We don't think there are any rules! Whereas a matte nail looks good on either a super short square nail or an XL curved pointed false nail or acrylic, holographic nail polish doesn't discriminate! Looking striking on long lengths or adding depths to small, short nails, it's a polish everyone can enjoy.

In terms of designs, the holographic colours need to shin eon their own but that doesn't mean you can't be creative. We find using one nail as a standout nail to showcase some nail art is a great idea – perhaps using a complementary tonal shade, or you might use a sponge to blend progressive shades of holographic polishes together. This could mean warm, red dips, descending into a lighter pale pink at the nail bed.

Diamantes and extras could be overkill on all the nails, but if you do use the tips or a feature nail, then you might want to try a textured nail polish to give even more dimension!

In terms of brands offering holographic top coats, there is availability from brands like Jessica and Essie, but unlike a mattifying top coat, a strengthening top coat or a gloss, a nail polish that can 'turn' another varnish into a holographic finish will always have to be quite sheer and usually pale – and almost certainly created using glitters or shimmers.

This might be right up your street and just what you need, but if you are more interested in something punchy and 'extra-terrestrial' – then we would always recommend going for it and choosing a darker, deeper shade of holographic nail polish.
Apr 14, 2018
holographic
Views 9285