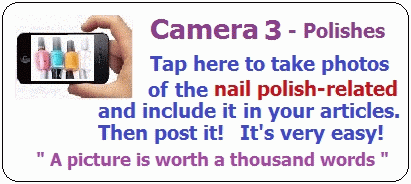 Nail Polishes and Related
Talks, Ask Questions, Reviews

| | |
| --- | --- |
| Q | The Best Matte Nail Polish? |
Matte Nail Polish


If you're interested in updating your nail polish wardrobe, you need to consider matte nail polish.

Effortlessly stylish but modern, we love a matte nail shade.

Mattes can disguise chips and marks and have an effortless cool look to them. Cool greys, muted blues and even apple reds look striking in a matte and shades that would be too girly or feminine get more of an edge!

We are always recommending matte nail polish, but we understand people are wary, after all if you've spent many years perfecting gloss, the matte look can be daunting!

So - how do you get the percent matte nail?

There are a range of options and the first is choosing the right shade for you.

We love a nude matte shade, and if you have been worried that this might make your hands look a little dead – we're here to help! We have a few tricks up our sleeves when it comes to nail polish.

The first is to choose a tone that works with your skin tine. Bluish reds suit fair skin, warmer pinks and oranges suit medium skin tones. This means typically pale pinks are a safe bet for fair skin whilst bubble-gum pinks for medium skin work well. For dark skins, choose oranges, peachy pinks and bright yellows, which all work well.

Having said that, any nail polish can become a matte shade using a mattifying top coat, so when it comes to shades, go wild and pick based on your outfit, your cocktail or your handbag and don't worry too much about getting it wrong! We like the Essie rage, but we can always help you if you want to ask our advice!

We also love Essie Spun in Luxe, Zoya Amal Mattes, or even the OPI top coat which can all give you matte nails to die for!

So, the other concern you may have is the commitment of a matte nail. If you are worried about matte being a bit too formal, then don't fear!

Our next tip for making matte nails really wearable to take matte nails from your workday to occasion wear is to liberally apply glitter or diamantes. A sparkle on a nude matte nail livens up the look and creates a great contrast. Our top tip if you are looking at DIY nail art is to use a cuticle stick to help get traction on the gems or crystals and help ensure you distribute them just as you like – by placing them closer to the top of the nail, you'll get far more grow out time, and extra protection from chips and bumps as well!

The feel isn't the same as a gloss, but you shouldn't feel uncomfortable or ridges, especially if you have laid down that smoothing base coat and have had the polish applied professionally in smooth, even coats.

(When we look to get longevity with a matte nail, we always lay down a base coat, even if that's a gloss finish! You might be surprised and worry that your matte nail polish won't have that same effect, but you would be wrong! The glossy base layer will help prevent any staining and helps protect your natural nails. It also gives a smooth area for you to apply your matte polish to.)

So – what about designs and colours?

There are so many to choose from – take a look around Pinterest and see which ones ring a bell with you! Florals seem to work well and if you've ever experimented with delicate pen style nail art, get ready to indulge again. There's something very appealing about a matte nail polish lifted out of flatness with a striking black design.

We do love a berry matte nail polish. Berry as a base colour gives. Stylish finish, and the benefit is that at the end of the week when you want a look that's a bit more 'fun' you can up your game with some nail art. At home this could mean using a sponge to press on different colours in a stippled effect, or perhaps using scotch tape to create negative space designs or adding striking colours such as gold, silver and bronze.

Mixing matte nail polish alongside gloss creates a glossy and matte look that will literally have people looking twice at your nails!
Apr 22, 2018
elaine
Views 8842