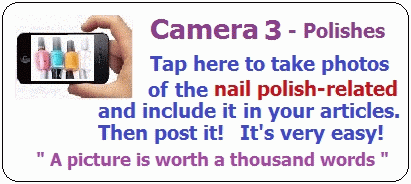 Nail Polishes and Related
Talks, Ask Questions, Reviews

| | |
| --- | --- |
| Q | Acrylic Nails: Pros and Cons |
Pros;
•Acrylic extensions are suitable for women with brittle and weak nails.

•Acrylics are good for women, who have a bad habit of chewing their nails as they are very hard to chew off. What better way to ward off an unwanted habit than making the damaged area as pretty as possible?

•Acrylic nails have been around longer than their counterparts, so, most nail technicians at salons and spas have a lot of experience about how to apply and remove these nails. You don't have to worry about side effects as such.

•They are cheaper than their counterparts. The lighter on the wallet, the more the happiness. Agree?


•The primary benefit of acrylic nails is that if one of them breaks, it can be fixed at home by using the right tools. You don't have to spend a bomb again to get them rectified.

•They last longer than gel nails.


Cons;
•They can damage your natural nail underneath, and it can be hard to grow out your nails with acrylic over them. Also, damaged nail is a breeding ground for fungus and bacteria.

•As Acrylic nails are artificial enhancements, they present a fake look. You need a very talented technician who can apply your acrylics as close to natural ones.

•Application of acrylic nails involves the use of strong chemicals and formation of fumes. Some women may have an allergy to such substances.


•You need refilling every month which means extra expenditure.
Aug 09, 2017
acrylicnails
Views 12583